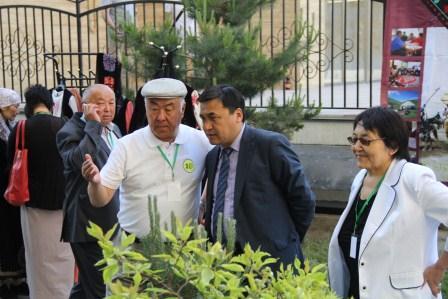 A member of the Kyrgyz Parliament, Kanybek Imanaliev, congratulated Rural Development Fund at its 10th anniversary, and wished for further prosperity and development on May 15.
"I would like to express deep gratitude for your work and contibution for the sake of rural development. And today we have to channel all our efforts to develop and support rural regions, as almost all food products are coming to urban citizens from villages", said Imanaliev.
On top of this congratulations to our achievements, Imanaliev carefully examined our exhibition of beeproducts, medical herbs, hand-made accessories and ethnic cuisine at the ceremony. He also donated some interesting books to our Step to Creativity Action.