R
DF took part in The Expanded Constituency Workshops organized by the GEF (Global Environmental Fund) for country members from Europe and Central Asia, which was held on July 9-12, 2019 in Minsk, Belarus.
Main topics of the Workshop included the following issues: climate change and biodiversity, strategies of the programming, development of the projects, dialogue with civil society and other. The Program also included the field trip session and exchange of the experience with Belarus colleagues from Naliboki forest.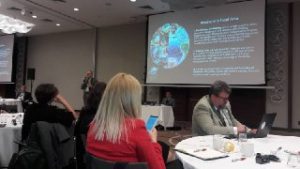 The Workshop was extremely interesting and main issues for discussion were:
What are the main lessons learned from the interaction of GEF with civil society?
Which key problems are left to solve?
What can be done better to move forward?
What are the main roles and responsibilities of OGO in the partnership with GEF?
Also, representatives of the State Agency for Environmental Protection of the Kyrgyz Republic participated in the Workshop.