Many of us remember the participation of the Friends of Zhibi volunteer club at the World Nomadic Games, and how they told the world about the history of Zhibi's little adventure through a theatrical play (www.youtube.com/watch?v=KAOyZvKOMzo). These were the students from the pilot schools of Talas and Kemin districts who participated in the RDF educational summer camp (www.youtube.com/watch?v=CSvgzSxcXoM).
Now we can recite a brave story of the kids of kindergarten No. 165 of Bishkek who joined the conservation of snow leopards! They recreated the Friends of Zhibi's theatrical piece at Nooruz festival by emulating Zhibi's older friends. We can recall their sincere and excited faces when they were portraying a wolf, a bear, a fox, and the main character of the story – snow leopard cub, Zhibi. As a token of gratitude, RDF, in turn, donated books on snow leopards, printed publications from the RDF's Traditional Knowledge Series, and some gifts and sweets to
the children of the kindergarten. The National Commission of the Kyrgyz Republic for UNESCO also made a gift of books for pre-school institutions.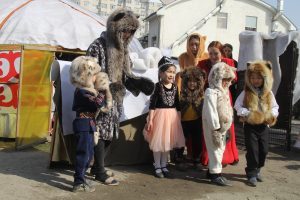 Many thanks to the pupils of the kindergarten №165 for joining the Friends of Zhibi in the conservation efforts for snow leopards! We would also like to express our deep gratitude to the leadership and the educators of Methodist kindergarten Gulshachan Janybaeva for the excellent work with the younger generation of our country.